About Us
Animal Kingdom of VA is a small privately owned exotic animal facility in Southwest Virginia dedicated to the conservation of exotic species.

Animal Kingdom of VA LLC is licensed and regulated by federal and state standards.
Our mission is to provide a safe, healthy educational exotic animal exhibit for the community.
We are open from May to September. See schedule for dates and times. Admission is $10 for adults and $5 for each child under 5 years old. All donations go to the care and feeding of the animals.
---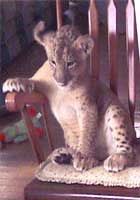 PLEASE HELP US PROTECT THE ANIMALS BY FOLLOWING THE RULES.
no pet animals allowed on premises during visit
do not attempt to cross safety barriers at any time
no leaning or climbing on fences
no public restrooms
no smoking
no eating or drinking
no contact with any of the animals
do not feed the animals
an adult MUST monitor children at all times
Please make plans to visit Animal Kingdom of VA when tours resume from May through September of 2017.
Thank you for your patronage of AnimalkingdomVA!
Email info@animalkingdomva.com for questions or information or to schedule a tour. Group Tours are by appointment only.